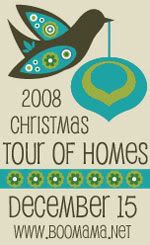 Welcome! So glad you stopped by for
BooMama's Christmas Tour of Homes
and arrived here at our happy home! Come on in and check out our tree.
We are so happy with our "little" Fraser fir that we found this year. It's full of ornaments from all over the world and tells the story of our family. I love it! A few presents have found their way under the tree, but the wrapping is slow going just yet.
Our nativity and one of my favorite things- perched atop the entertainment armoire.
This is kind of an odd picture but shows off our advent calendar that my mom made. It's very similar to the one that we used growing up and is a treasured part of our Christmas traditions.
The sideboard is home to our Jesse Tree which is a new tradition we started last year. Our stockings are hung on the banister with care. I can't wait til there are four stocking to hang next year!
I have recessed shelving in my kitchen that always houses a variety of objects from vases, pictures to cookbooks and candles. Christmas finds it filled with another nativity, my favorite giant hot cocoa mugs and various Christmas-y odds and ends.
And since we're in the kitchen, how about a recipe? We made these treats this weekend and oh my, they are good!
Sweet Spiced Rosemary Pecans
2 cups pecan halves
2 Tbsp. butter, melted
1 Tbsp. packed brown sugar
2 tsp. balsamic vinegar
a few drops hot sauce
1/2 tsp. coarse salt
freshly ground black pepper to taste
1 Tbsp. chopped fresh rosemary
Toss everything in bowl to coat well. Bake at 325F for 10-15 minutes, stirring occasionally, until pale golden and fragrant. Cool completely. Makes about 2 cups. (Recipe courtesy of
Dinner with Julie
.)
Thanks for stopping by! I hope you enjoyed seeing our home. I know I love sharing it all the time, but especially at Christmas!
May your home be filled with joy as we celebrate our Savior's birth! Merry Christmas!